5 Popular Color Schemes for Your Bedroom
Feb 22nd 2021
A bedroom is the most important space in the house. The color scheme of the bedroom plays an important role to create an environment the encourage sleep and fits the mood of the bedroom. Everyone has different preferences when it comes to a bedroom and aside from choosing a color scheme, there are a lot of other considerations like what kind of furniture would complement the color scheme? Will the color you choose affect the size and feel of the room? What color palette will look best? and much more.
To save you from the trouble we have compiled the top 5 popular color schemes for bedrooms for individuals with different taste and preferences.
Cream and Coral
This stunning bedroom features coral tones with cream accents. All the colors fuse so well without being too strong to the eyes. The light green wall and grey curtains coincide well together, giving the room a harmonious look. The subtle colors offer a subtle approach to the décor of any bedroom to make it a place you'll love to relax in after a tiring day.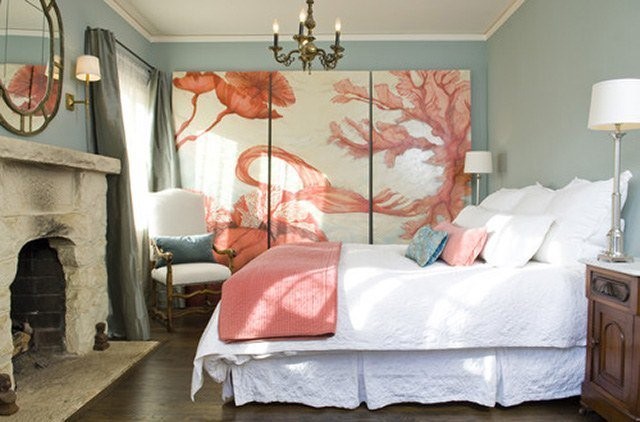 Lime Green and Yellow
This fun color combo would be great for kids' bedrooms. The pale lime green and prominent white tones go well together and provide the room a bright and refreshing look. The yellow walls and white ceiling also give the room more spacious look. Moreover, the stunning white dresser on the bedside also adds a classy vibe to the décor.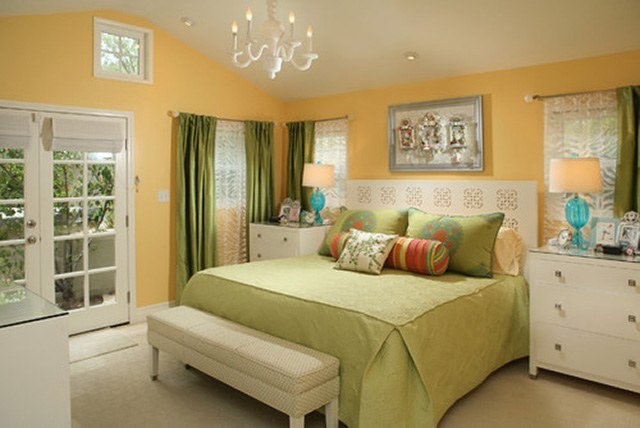 Beachy Blue and White
This bedroom features a serene color pallet with beachy blue and white lines perfectly complementing each other and makes the room feel like a breath of fresh air. The sand-colored hardboard is giving some funky vibe without being too distracting. The overall color scheme is peaceful, inviting, perfect for a guest bedroom.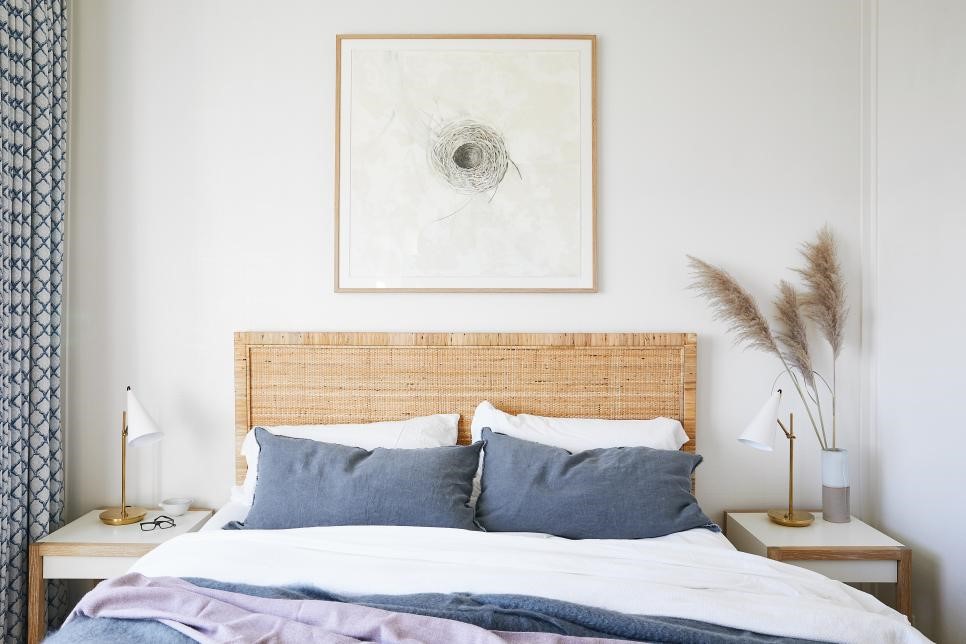 Muted Green and Light Brown
This bedroom features an elegant light brown shade paired kind of a muted green or aqua color. This color combination goes so well for master bedrooms. This pairing is great when you want to create an interesting spin without being too crazy on colors. It's interesting to see how certain colors can make such a huge difference to any room.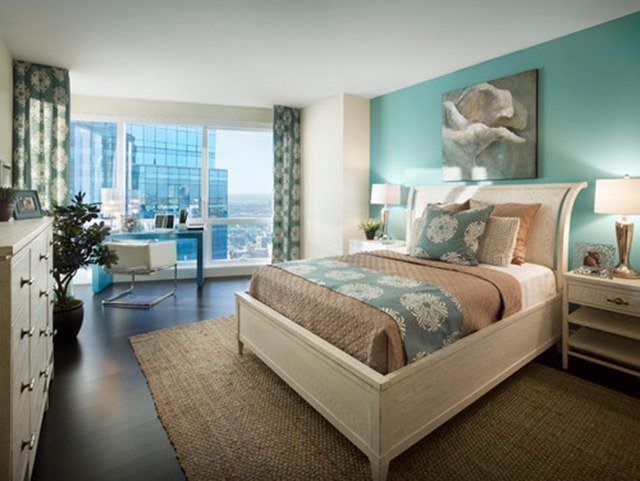 Moon Purple
This wonderful bedroom room features grey, purple, and blues, making the space look so welcoming and spaced out. The grey bed and curtains look stunning adding a cozy vibe to the room. The overall color scheme is so interesting that it acts like décor itself. This combination is great for master bedrooms or even guests' rooms since the colors are so prominent. Check out this stunning bed perfect for this color scheme.