5 Popular Color Schemes for Your Living Room
Feb 22nd 2021
Colors are the essential element in our life since they directly affect how we perceive space and consequently our mood and emotions. The living room is unarguably the most important room where families tend to spend the bulk of their time and entertain guests. It's important to choose the color scheme that reflects your style and personality and helps you create a place that's not only pleasing to the eye but evokes welcoming feelings and sparks conversation.
If you want to make sure that your living room looks great, let's take a look at some living room color schemes and sofa combos that will help you make a bold impression.
White and Sky Blue
A bright palette of white, brown, and turquoise is strategically mounted to evoking the colors of earth and sky, is used in this cheerful living room. The lighter monochromatic hues of brown and turquoise are used to create visual harmony. A soothing atmosphere is created with different shades of brown on the walls and floor, while the turquoise accessories and striped curtains give pops of color in all the right places. The white couch with slipcovers is casual and adds comfortable vibe.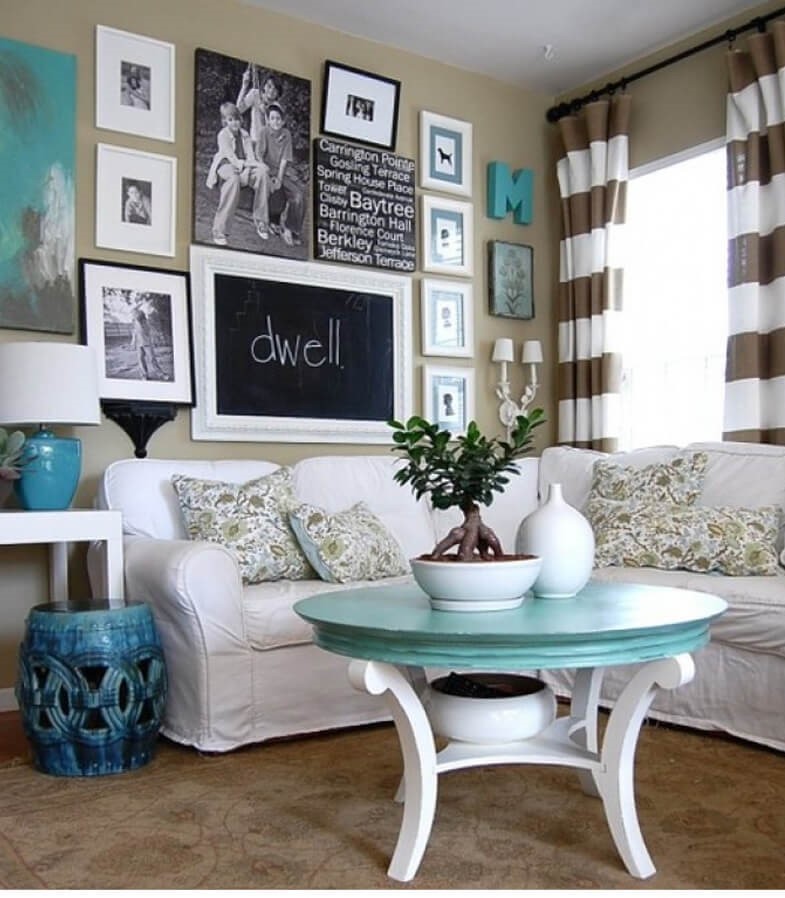 Grey and Violet
This urban living area is a great example of how peace can be brought to a room by monochromatic colors. The color scheme is modest, with an ivory carpet and sofa , taupe walls and tables, and purple decorations. The three distinct shades of purple are seen in the throw pillows, art, drapes, and lamps, making it look complex yet harmonious at the same time.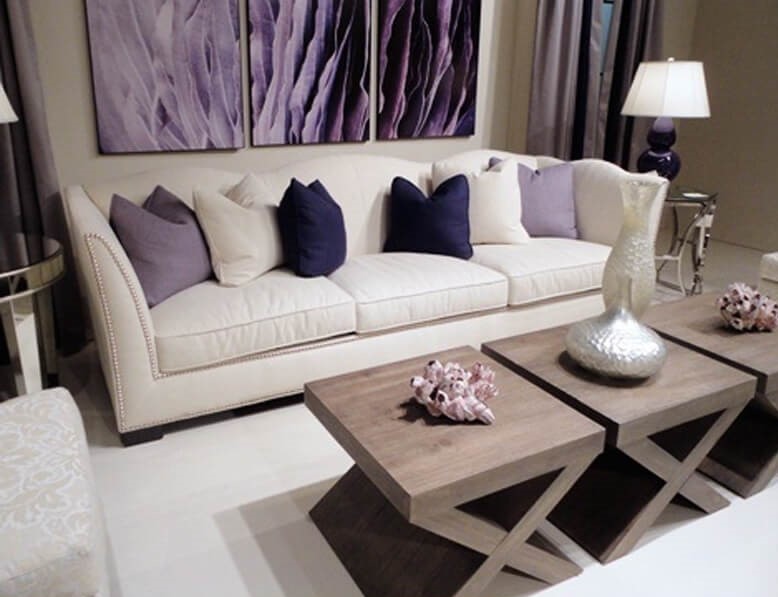 Pale blue and Gold
The color scheme and interior of this elegant Living room is inspired by Old Hollywood. Pale shades of blue, linen, and white are used to grace this living room. To add an urban touch, tufted furniture with nail head trim, mirrored end tables, and a white shag rug has been used. Velvet pillows are being incorporated to provide a contrast to the gold color scheme.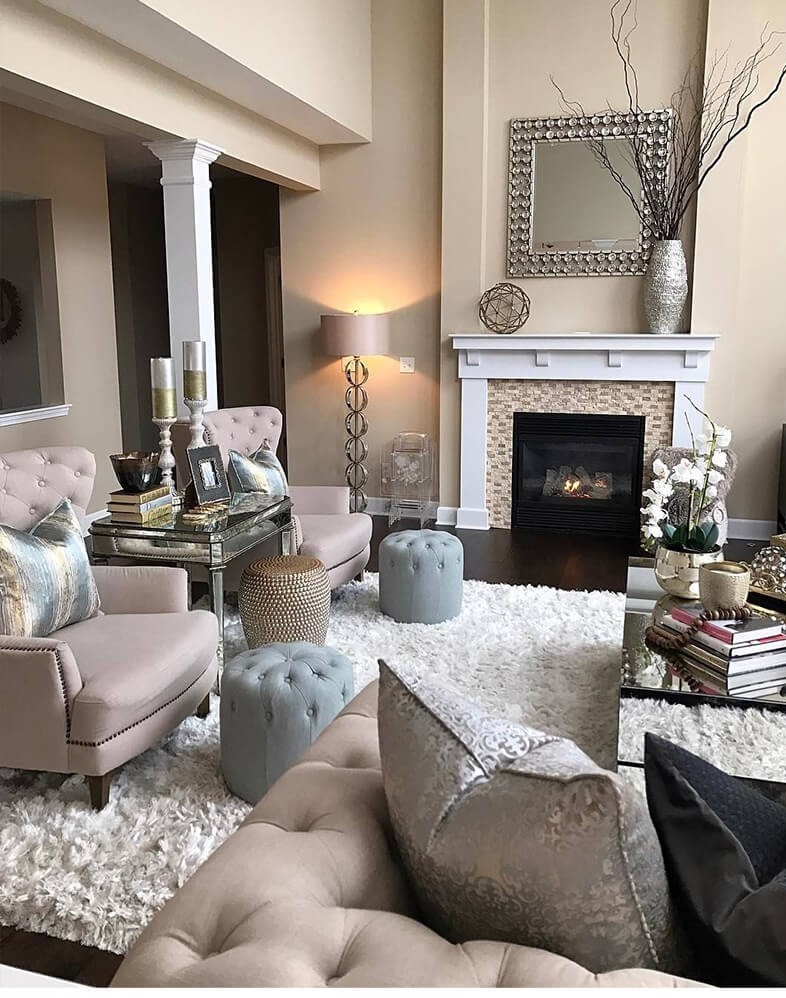 Elegant Coffee Brown
Enjoy the rich colors of autumn in your living room all year long! Analogous colors are used to adorn this living room. The deep orange and gold colors are chosen because they beautifully harmonize when next to each other. The pillows and carpet contain two monochromatic shades of orange and orange/brown to increase the feeling of synchronization. The neutral tan sofa and matchnig love seat give the eyes a break from the bold colors and add a sense of balance to the room.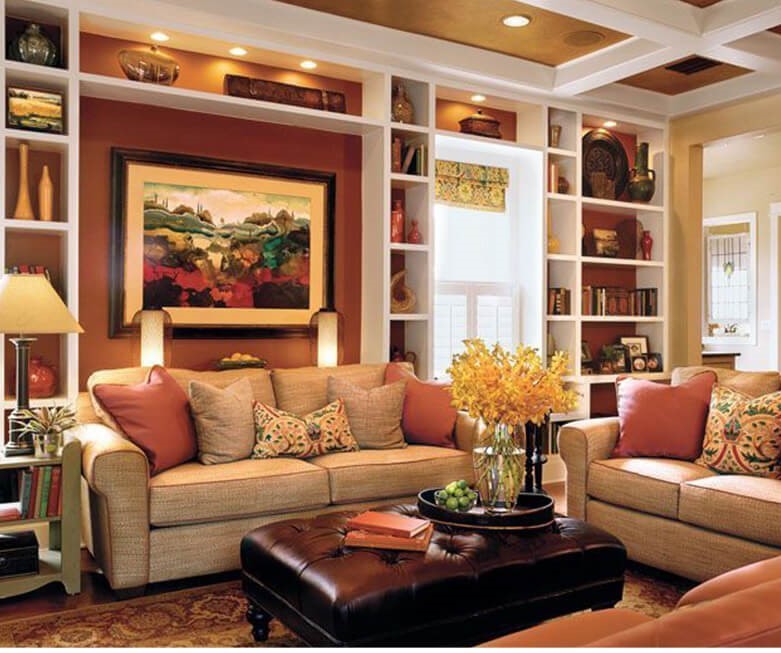 Pink and White
This well-designed living room is made up of Neapolitan ice cream colors. A sense of coziness is added by the warm tones of chocolate and beige on the walls. Pink pillows and a gold table and lamp are adding charm to the room. The leopard prints on the pillows are considered neutral, and almost compliments every color scheme, but also provides edgy contrast.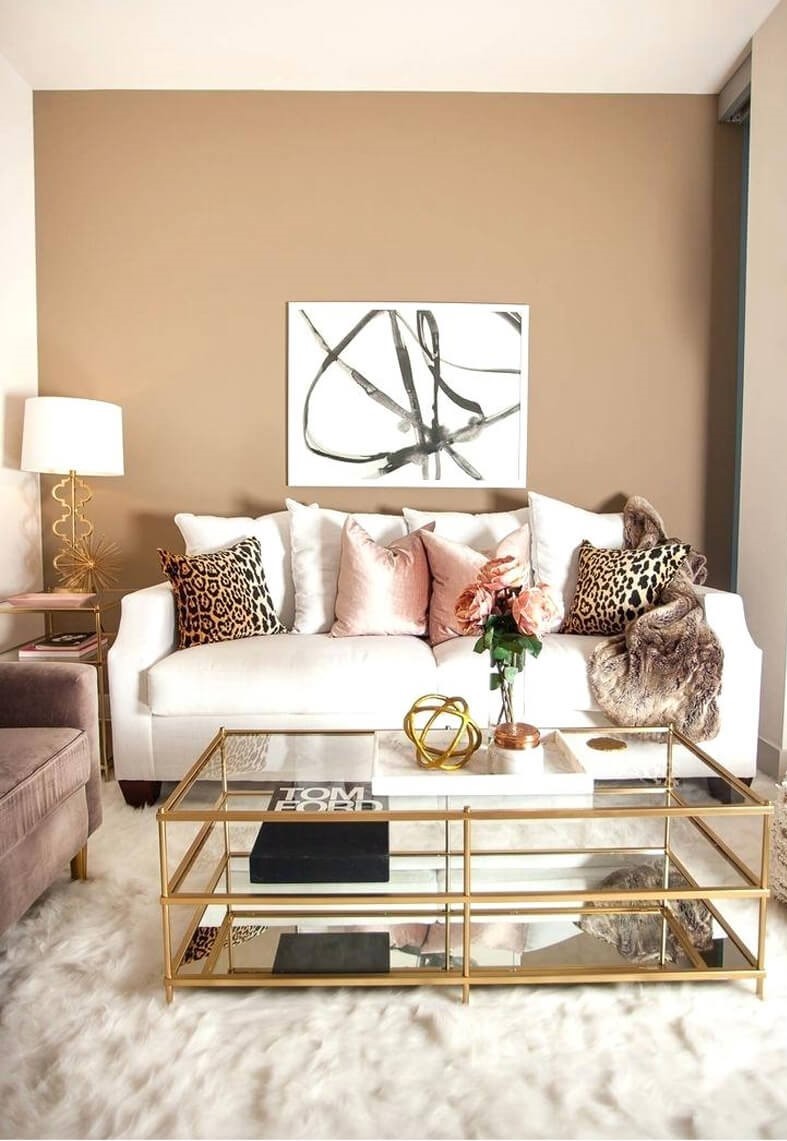 Pretty Navy and Grey
This tranquil and intimate living room features soothing grey shade on walls, floor, and rug with a twilight blue sofa accented by a lighter-toned fur throw. The grays and blues split up with pink throw pillows and roses so that they do not overwhelm. A focal point is introduced by gleaming white side tables. The walls are peppered with black and white photographs to add a chic feel.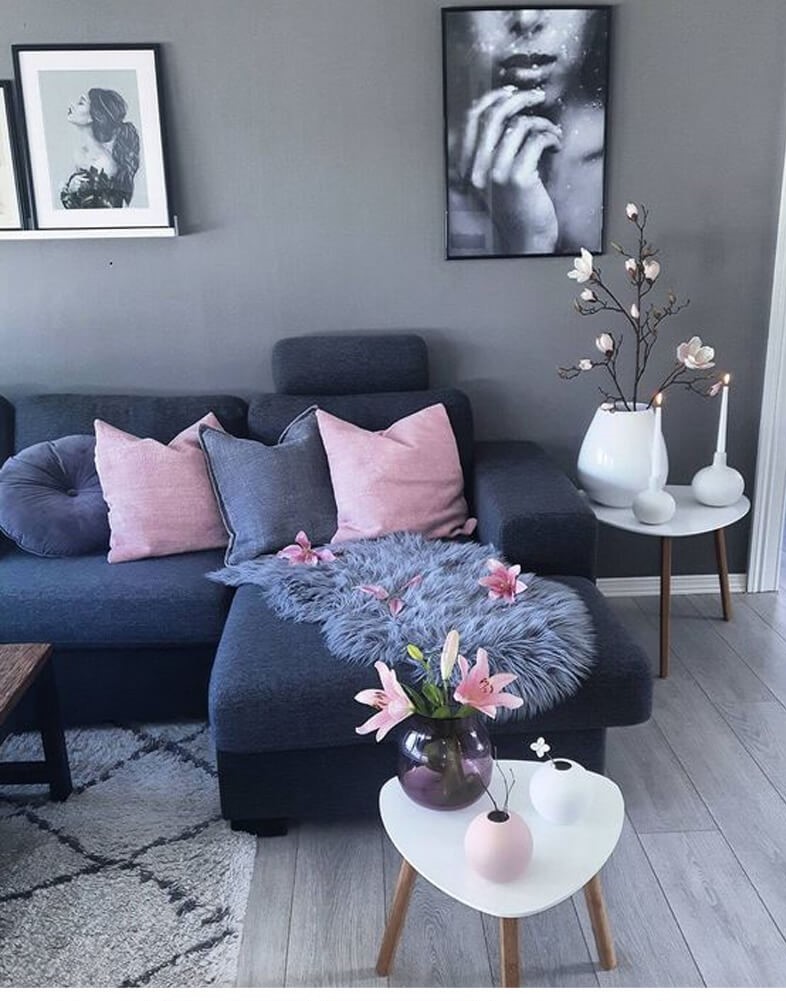 Sand and beige
Soft beige sandy tones are making this beachy living room radiate luxury and comfort. The same color tones are used for the carpet, walls, light grey couch, and coffee table to create a soft harmony. In the form of throw pillows and wall art set on a decorative ledge, contrasting sea-green and white elements are being incorporated. Contrasting pillows and picture frames are further adding a calming peace to the overall environment.